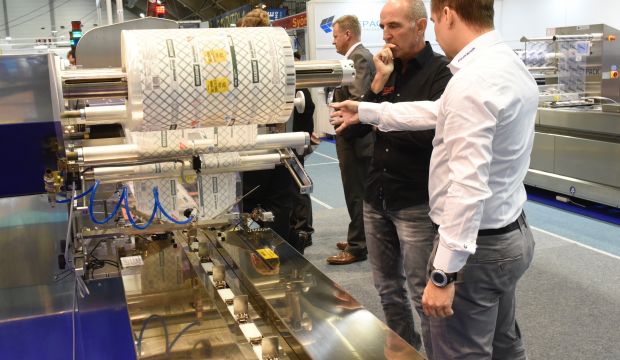 Empack, Food and Drink Industry and Logistics together in Tampere in 2020
News 12.11.2018
An entity of three new professional events are held in Tampere Exhibition and Sports Centre 9-10.9.2020. The Food and Drink Industry Fair for food industry professionals, and the Logistics Fair for material handling and logistics professionals will be accompanied by the packaging trade fair Empack. Tampere hosts the Empack Trade Fair for the first time. It will be a significant and new kind of exhibition entity offering a wide range of synergy benefits and networking opportunities for the industry actors. The event entity is organized in cooperation between Easyfairs and Tampere Trade Fairs Ltd.
– A strong packaging industry event has long been awaited to accompany the Food and Drink Industry Trade Fair. We can grant this wish with Empack. Together these two events, supplemented by the Logistics Trade Fair, will form a significant entity that will provide trade fair exhibitors with real synergy, thus serving our customers more versatile, says Hannu Vähätalo, Managing Director of Tampere Trade Fairs Ltd.
– The entity of the three events create an excellent synergy benefit for both the visitors and participating companies. The visitor sees the different stages of his own production process more widely than ever before. From the point of view of exhibiting companies, the event is even more interesting, as its offering will bring together a more versatile professional audience under the same roof at the same time, says Easyfairs' COO Anu Rapeli.
Empack will debut in Tampere – Number One Events for Food and Drink and Logistics Industry
Empack is an international professional packaging industry event that brings together professionals, innovations and solutions under the same roof. The event will give an overview on the future of the packaging industry and new products and services, and inspires on topical seminars. The event has been organized in Finland since 2009 and is part of a large, international Empack event family. In 2019, Empack will be held in Helsinki together with the Easyfairs' Logistics & Distribution event and the Technology event.
The Food and Drink Industry Trade Fair, which has been organized since 2005, is the leading event for the food and drink industry in Scandinavia, covering the entire industry from primary production to the end user and recycling. The Tampere Logistics Fair is the number one event of material handling and logistics professionals, which presents the intralogistics and the related logistics and storage services, as well as new solutions in the field. The Logistics Fair has been organized every two years since 2011.
A security and work well-being trade fair is also being arranged simultaneously.
At the same time, the Tampere Exhibition and Sports Centre will also host an International Safety Industry Event, EuroSafety, and Workplace Welfare event. The events are organized by Tampere Trade Fairs Ltd.
Tampere Trade Fairs Ltd: www.tampereenmessut.fi, firstname.lastname@tampereenmessut.fi
Facebook: @TampereenMessut, Twitter: @TampereenMessut
Hannu Vähätalo, Managing Director, tel. +358 500 620 806
Meri Mattila, Communications Specialist, tel. +358 400 914 877, @MeriTMattila

Empack / EasyFairs Finland: www.easyfairs.com
Anu Rapeli, COO, tel. +358 40 526 4075, anu.rapeli@easyfairs.com